Health Hazards Of Dog Waste

Statement from Municipality of
Anchorage website - Animal Care
& Control Center - Scoop The Poop

http://www.muni.org/Healthmsd/animal.cfm#scoop
"You can be cited for violating care
and sanitation laws if the waste is allowed to build up in your own yard, which often creates an unpleasant and unsanitary nuisance to neighbors".
         ___________________

Not only is dog waste messy,
unsightly, smelly, and bothersome,
but it also creates a serious health hazard if not dealt with properly. Worms and viruses such as roundworm, tapeworm, ringworm, whip worm, and the deadly parvo virus are all transmitted through dog feces.
We will rid your property of offensive, unsightly, and dangerous dog waste. 
Roundworms 

                
   

Look something like rubber bands in the dog waste. Of course, sometimes dogs actually do eat and subsequently eliminate rubber bands, but you can see the difference if you look closely. If we find one or more
roundworms in a dogs feces, whether the worms are still alive or dead, we will notify the animal's owner. Sometimes a worm treatment will result in elimination of several dead roundworms but it's still a good idea to check with the dog owner just to make sure that she/he knows what's
happening.

Ascaris lumbricoides is the largest nematode (roundworm) parasitizing the human intestine. Immature or adult A.lumbricoides are sometimes passed in stools. Adult males measure 15-30 cm in length by 0.3-0.8 cm in diameter and have a ventrally curved tail; adult females measure 20-35 cm in length by 0.5 cm in diameter.
Adult worms live in the lumen of the small intestine. A female may produce approximately 200,000 eggs per day, which are passed with the feces.
Unfertilized eggs may be ingested but are not infective. Fertile eggs embryonate and become infective after 18 days to several weeks , depending on the environmental conditions (optimum: moist, warm, shaded soil). After infective eggs are swallowed , the larvae hatch , invade the intestinal mucosa, and are carried via the portal, then systemic circulation to the lungs . The larvae mature further in the lungs (10 to 14 days), penetrate the alveolar walls,
ascend the bronchial tree to the throat, and are swallowed . Upon reaching the small intestine, they develop into adult worms . Between 2 and 3 months are required from ingestion of the infective eggs to oviposition by the adult female. Adult worms can live 1 to 2 years.
Geographic Distribution: The most common human helminthic infection. Worldwide distribution. Highest prevalence in tropical and subtropical regions, and areas with inadequate sanitation. Occurs in rural areas of the southeastern United States.
Tapeworms             

                


In dogs may sometimes be detected by observing segments of the worms or the parasites eggs, resembling grains of brown rice, in the dog waste. Especially warm weather, you will very frequently see small, white, fat, rice sized creatures in the waste. These are not tapeworms eggs; they are the larvae of flies (maggots) that hatch from eggs laid in the waste after it is eliminated. Newly eliminated, live tapeworms segments can be white, fat, and wiggly. To tell them apart from maggots you can look closely in see that they are carrot-shaped.
The cestodes (tapeworms) Taenia saginata (beef tapeworm) and Taenia solium (pork tapeworm). T.saginata may measure 9 m (27 ft), whereas T.solium may reach 6 m (18 ft). Taeniasis occurs when raw or undercooked unfrozen beef (T.saginata) or pork (T.solium) are eaten. T. solium can also cause cysticercosis.
Humans are the only definitive hosts for Taenia saginata and Taenia solium. Eggs or gravid proglottids are passed with feces ; the eggs can survive for days to months in the environment. Cattle (T. saginata) and pigs (T. solium) become infected by ingesting vegetation contaminated with eggs or gravid proglottids . In the animal's intestine, the oncospheres hatch , invade the intestinal wall, and migrate to the striated muscles, where they develop into cysticerci. A cysticercus can survive for several years in the animal. Humans become infected by ingesting raw or undercooked infected meat . In the human intestine, the cysticercus develops over 2 months into an adult tapeworm, which can survive for years. The adult tapeworms attach to the small intestine by their scolex and reside in the small intestine . Length of adult worms is usually 5 m or less for T. saginata (however it may reach up to 25 m) and 2 to 7 m for T. solium. The adults produce proglottids which mature, become gravid, detach from the tapeworm, and migrate to the anus or are passed in the stool (approximately 6 per day). T. saginata adults usually have 1,000 to 2,000 proglottids, while T. solium adults have an average of 1,000 proglottids. The eggs contained in the gravid proglottids are released after the proglottids are passed with the feces. T. saginata may produce up to 100,000 and T. solium may produce 50,000 eggs per proglottid respectively.
Geographic Distribution: Both species are worldwide in distribution. Taenia solium is more prevalent in poorer communities where humans live in close contact with pigs and eat undercooked pork, and in very rare in Muslim countries.

Whipworms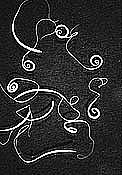 The unembryonated eggs are passed with the waste. In the soil, the eggs develop into a 2-cell stage , an advanced cleavage stage , and then they  embryonate ; eggs become infective in 15 to 30 days. After ingestion (soil-contaminated hands or food), the eggs hatch in the small intestine, and release larvae that mature and establish themselves as adults in the colon . The adult worms (approximately 4 cm in length) live in the cecum and ascending colon. The adult worms are fixed in that location, with the anterior portions threaded into the mucosa. The females begin to oviposit 60 to 70 days after infection. Female worms in the cecum shed between 3,000 and 20,000 eggs per day. The life span of the adults is about 1 year.
Geographic Distribution: The third most common roundworm of humans. Worldwide, with infections more frequent in areas with tropical weather and poor sanitation practices, and among children. It is estimated that 800 million people are infected worldwide. Trichuriasis occurs in the southern United States.

Blood in the Stool

Can be an indication of a very serious health problem. If we find blood in a dog's waste, we will notify the owner asap in order that a veterinarian may be consulted right away. The color of the blood: red blood or dark, nearly black blood in the stool indicate problems in different parts of the digestive tract.